Get a Second Opinion
You can expect an experienced, credentialed, and independent dentist to review your treatment plan, dental records and oral health history if/as available.

You can expect the dentist to ask you a few questions in order to best identify, diagnose and recommend possible other options or the same treatment plan.

You can expect a transparent and fair review of your treatment plan with no incentives other than what's best for your oral health.

If requested, you can expect a referral to a different dentist in your area to provide the recommended dental care.
It's really that easy.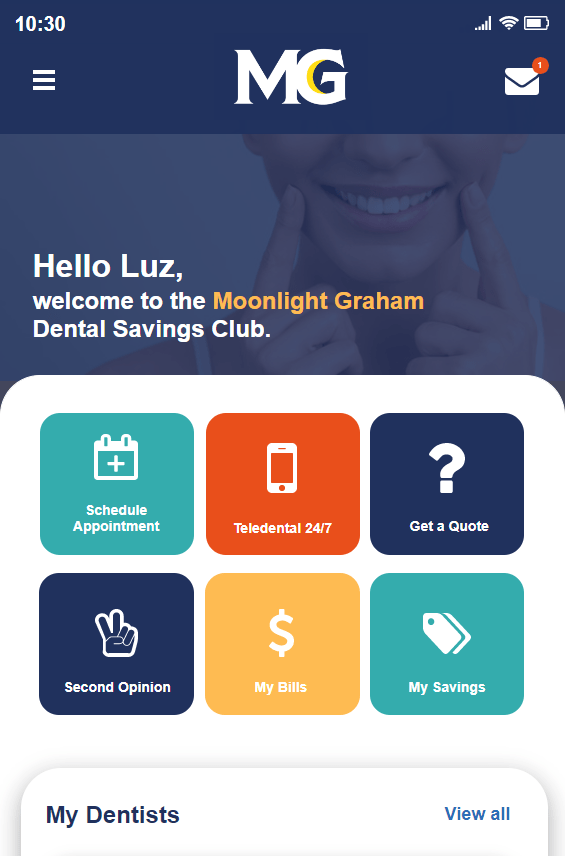 How it Works:
Click on the Second Opinion button on the app.

Select the participating dental practice that has your current treatment plan and dental records.

Moonlight Graham will reach out to your dental practice to get your current treatment plan and available dental records.

Upon receipt of the treatment plan and dental records, select one of two second opinion options, and if appropriate an available virtual meeting time.

Complete a brief questionnaire about your oral health.

Enter your valid credit card information to confirm you want to purchase the selected second opinion service.

If appropriate, click on the Second Opinion link at the reserved and confirmed time.

If appropriate, virtually meet with the dentist.

Receive a written review of  your treatment plan and a recommendation on the next steps for your dental care.